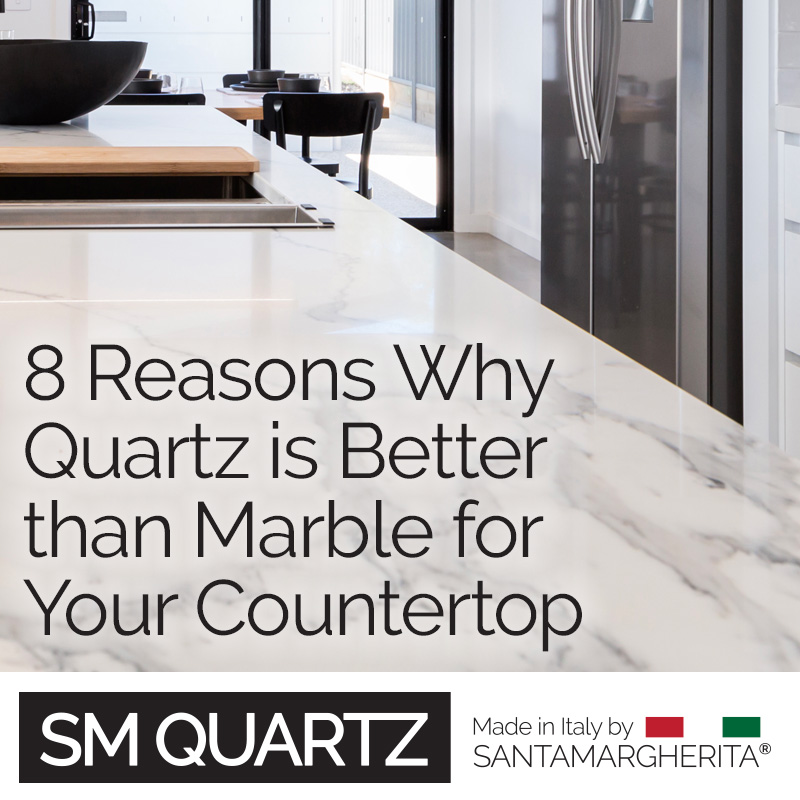 Kitchens are the heart of the home and with all that activity, you need to be sure that your worktop is up to the task. There's nothing more heartbreaking than investing in your home only to see the results degrade quickly.
You may love the sophisticated look of a marble countertop, but marble has a number of drawbacks.
That's where quartz comes in. For modern homes, quartz gives the same elegant style as marble but it's a better choice for your countertop, and here's why:
1. Quartz Doesn't Stain
Because it is non-porous, quartz doesn't stain in the same way that marble can. Which means you're safe to enjoy your coffee at the counter every morning without worry.
2. Quartz is Sanitary
Marble is porous, so can absorb liquids, which not only makes it prone to staining, but also allows it to harbour bacteria and viruses. Quartz is non-porous, so it is more sanitary and therefore more suitable for household use.
3. Quartz is Durable
Marble is a fairly soft stone, prone to damage from falling objects, cleaning products and common cooking ingredients like vinegar and tomato sauce. Quartz is much more durable, which means you can relax in your own kitchen and go about your daily life, while your countertop continues to look great year after year.
4. Quartz Doesn't Require Maintenance
Quartz is maintenance free, unlike marble, which requires regular applications of sealant to prevent stains and damage.
5. Quartz is Elegant
As a man-made material, the patterns available in quartz are consistent, meaning you'll get exactly what you ordered, without unexpected pattern variations or discolouration.
6. Quartz Comes in a Wide Range of Styles
Some of the patterns and colours mimic marble, so you can get the same beautiful patterns as marble, but with all the benefits of quartz.
7. Quartz is More Affordable
Generally, quartz is more affordable than marble, which frees up more of your budget for the rest of your kitchen.
8. Quartz is Eco Friendly
Engineered quartz (like SMQuartz) contains around 95% recycled stone from the stone industry. It does not require the same complex mining process as marble, so it is an environmentally friendly product that does not use as much energy consumption in the production process. In addition, its durability means less drain on the world's resources as it does not need to be replaced as often.
The Stone Studio is proud to present an elegant collection of stone products for all type of surface uses. Suitable for creating exquisite kitchen countertops and vanities natural flooring, indoor wall cladding, shower walls and many other everyday uses. Exclusively offering top brands including Santa Margherita (SMQuartz) and Cambria with an offering of hundreds different styles in all classic and contemporary designs and colours.